Due to the nature of our business ,
we can only accept payments in crypto currencies, we do not accept payments with debit/credit cards, paypal, etc
. Each vendor accepts a number of coins from one to all available.
To pay a invoice, you will need to have one currency the vendor is accepting (Bitcoin, Litecoin), a working crypto currency wallet like Jaxx or Electrum or you can use a web wallet like coinbase, blockchain. If you do not have crypto, you can purchase from exchanges like binance.com, localbitcoins.com, https://buy.coingate.com/

First, the numbers you see written under the coin name are the rates. At the moment of writing, a Bitcoin was selling for $8237.45 and a Litecoin for $55.16. So do not worry about those. The rate is not the invoice price, that will come up later.
To complete the payment, you have 15 minutes. After 15 minutes, the rates expire and you need to refresh the invoice.
Step one.
Pick the currency you want to pay in, based on the currency you already have in your wallet. Again, we do not accept payments through debit/credit cards, Paypal, western union or any other app.
Step two:

After you clicked the coin you want to pay in, you will be asked to input your email address, where a copy of the payment will be sent to & in case you have issue, info on how to resolve those issues.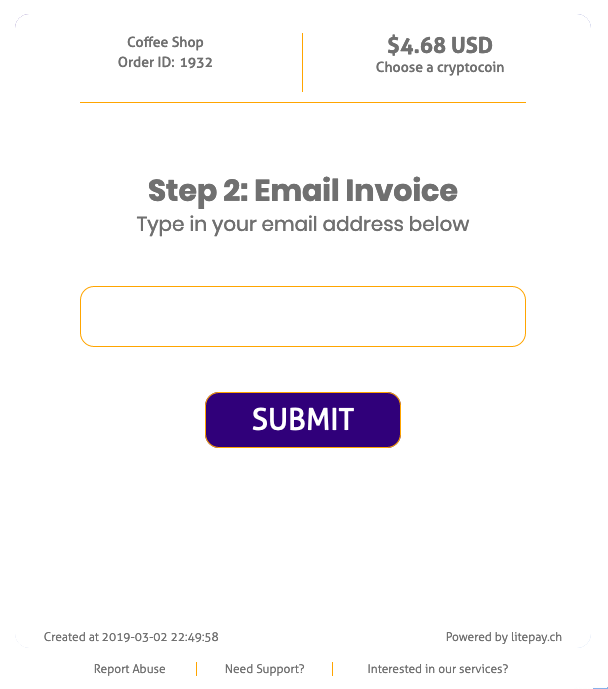 Step three.

You will be presented with the amount you have to pay in, the crypto address you have to pay to and a QR code you can scan with your smartphone camera. You will have to send the exact amount you see written there, in this case 0.00056801 BTC and not less, else the invoice will lock until we are able to get in touch with you.

Use your wallet withdrawal option (for exchanges) or "Send" for local wallets.. to send the requested amount to the requested address. If you are not sure how your wallet works and if it will add the network fee to the amount you are sending, include a couple of cents more.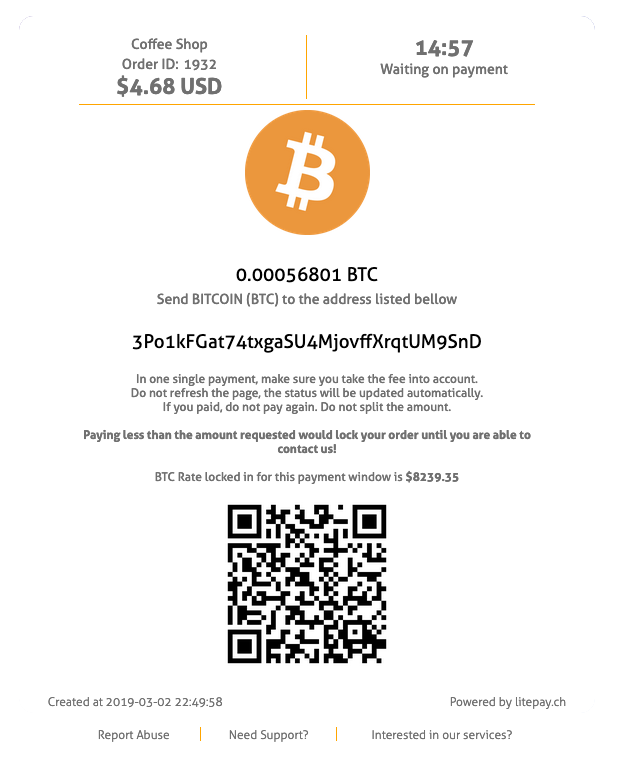 pay with crypto